!– End Google Tag Manager –>
Sale!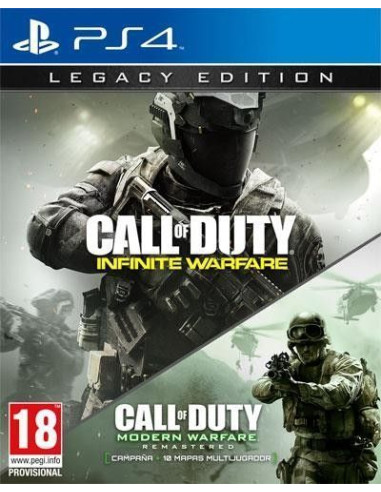 View larger
Call Of Duty Inifinite Warfare Legacy Edition PS4
The minimum purchase order quantity for the product is 1
New product
This product is no longer in stock
Warning: Last items in stock!
Availability date:
Producto de Sony
Características:
VUELVE LA GUERRA A GRAN ESCALA

Call of Duty®: Infinite Warfare nos embarcará en un viaje inolvidable, en el que combatiremos en heroicas batallas en la Tierra y más allá de nuestra atmósfera, contra una implacable enemigo que amenaza nuestro estilo de vida. Una guerra a gran escala con personajes memorables, una historia emocionante y nuevos e impresionantes entornos, todo con el sello inconfundible de Call of Duty.

UNA CAMPAÑA PARA EL RECUERDO

Call of Duty®: Infinite Warfare ofrece una épica historia de guerra en la que la narrativa ocupa un papel primordial. Una experiencia repleta de los espectaculares momentos que caracterizan a Call of Duty y, al mismo tiempo, un emocionante retrato de una guerra que nos transporta a las raíces de la franquicia. Infinity Ward nos propone un nuevo reto, el liderazgo en tiempo de guerra. Adoptaremos el papel del Capitán Reyes, un piloto de Operaciones Especiales que tomará el mando de la Retribution, una de las últimas naves de guerra de la Tierra. Lideraremos los restos de las fuerzas de la coalición contra un enemigo implacable, en una guerra que se expandirá a lo largo de nuestro Sistema Solar.

COMBATE CONTRA UN FANÁTICO ENEMIGO

El Settlement Defense Front (SetDef) está formado por un grupo insurgente que se separó de la Alianza Espacial de Naciones Unidas durante una guerra de secesión años atrás. En el mundo de Call of Duty®: Infinite Warfare, nuestro planeta ha sido despojado de sus recursos naturales debido al crecimiento poblacional y la expansión industrial. Los habitantes de la Tierra ahora dependen de los asentamientos coloniales a lo largo del Sistema Solar que extraen de los planetas y asteroides el combustible y otros recursos vitales. El SetDef es una fuerza fascista, compuesta por militares radicalizados y endurecidos por las condiciones extremas de las colonias mineras. Su objetivo es obtener el control de estos puestos fronterizos y sus riquezas, y ejercer su dominio sobre las naciones de la Tierra. Después de años de estancamiento, las relaciones diplomáticas son extremadamente tensas y solo haría falta un pequeño incidente para desatar una guerra a gran escala.

LA EXPERIENCIA MULTIJUGADOR MÁS INTENSA

Call of Duty®: Infinite Warfare integra el fluido sistema de movimientos encadenados, que ha cautivado a millones de fans de Call of Duty, en una innovadora experiencia multijugador que premia más que nunca a aquellos jugadores que sepan emplear el entorno en su favor y aplicar estrategias en el fragor de la batalla. Los mapas están diseñados para aprovechar aún más el sistema de movimientos encadenados y sumergir a los jugadores en la jugabilidad rápida, divertida y frenética que esperan de Call of Duty. Con este novedoso planteamiento, el multijugador ofrece a los jugadores el reto de lograr sus objetivos de formas creativas y adaptadas a su estilo de juego.

SUSPENSE Y LUCHAS CONTRA LOS MUERTOS VIVIENTES

Infinity Ward nos ofrece grandes novedades en el modo más terrorífico por excelencia, el Modo Zombis de Call of Duty®: Infinite Warfare. Con una nueva y emocionante historia por descubrir, nos veremos envueltos en una terrorífica aventura no apta para corazones sensibles. En el Modo Zombis viviremos una auténtica montaña rusa de emociones gracias a sus múltiples novedades y a los elementos jugables que han convertido este modo en un auténtico clásico para los fans de Call of Duty.
Call of Duty®: Infinite Warfare vuelve a marcar el listón de calidad en la saga, ofreciendo tres experiencias increíbles en un pack excepcional.
Customers who bought this product also bought: